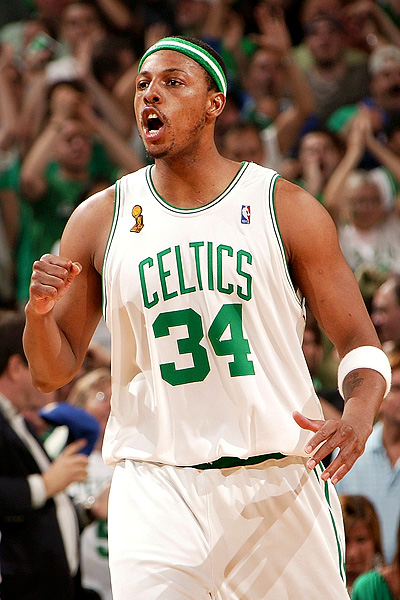 Bad memories come to mind when Celtics captain Paul Pierce looks back at his one and only appearance in the Footlocker Three Point Contest during the 2002-2003 all-star break. In the competition Pierce only managed to score a total of eight points and he was embarrassed about it to say the least.
This season Pierce has been doing some lobbying of his own in hopes to redeem himself from that dismal performance. He recently blogged about his hopes to participate in the contest on Boston.com, you can read that here.
Apparently his hard work and drive to participate in the competition has paid off. According to Gary Washburn of the Boston Globe, Pierce confirmed today that he will be partaking in the event during all-star weekend.
"Paul pierce says hes in 3 point contest in dallas"
This time around don't expect Pierce to be such a slouch. He recognizes that doing well in this competition requires practice and hard work, you can not just arrive in Dallas and expect to be crowned the three point king. The contest is different from just shooting from behind the arc in regular games because you have to pick up each and every ball, you do not receive the ball off from a pass. Here's what Pierce had to say on his performance last time and how he will prepare this time around:
"I was EMBARRASSED!," "The craziest part is, I never practiced for it. I thought it was just go out there, shoot and make shots. But you've got to practice grabbing the ball off the rack and getting to the next spot. You're used to getting a pass. If I did it this year, I would set up the racks and actually practice for it. Because you've got to have a strategy, I think.
Lucky for Pierce he is a better stationary shooter than some of the guys in the league, for example Eddie House. It is good to finally see a guy on the team get recognized for his individual efforts and hard work. We all know it's a team game but having a guy to watch during the contest will make it that much better.