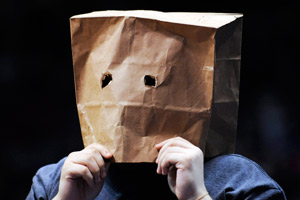 If you ever have bad thoughts about the Celtics season so far just imagine being a Nets fan. Although the Celtics have sent us on a roller coaster ride they still have 38 more wins than the Nets. As we currently stand the Nets need three more wins to avoid having the worst regular season record in NBA history.
I'm sure you remember the two fools at the TD Garden back in 2007 that put paper bags on their face in hopes to gain attention from the media (which they did). Well now it's time for New Jersey Nets fans to get their shot at getting a camera put on them. In last night's 99-89 loss to the Miami Heat, a Nets fan by the name of Chris Lisi gained national attention by putting a paper bag over his face during the game.
Well I guess that's not the only reason why gained attention. According to ESPN.com, Nets CEO Brett Yomark confronted the fan causing a verbal war between the two sides.
Here is the information from ESPN:
The New Jersey Nets' sad-sack season appeared to hit another low Monday night when CEO Brett Yormark shouted at a fan wearing a paper bag over his head.
Yormark left his courtside seat at the IZOD Center late in the second half of New Jersey's 99-89 loss to the Miami Heat. Yormark then doubled back toward the fan, identified by the New York Daily News as Chris Lisi of Middletown, N.J.

It was at that point that Yormark, Lisi and a friend of Lisi's got into a shouting match with reporters and photographers nearby.
So next time you get frustrated with the Celtics remember and be thankful that you are not getting into a verbal argument with Wyc Grousbeck