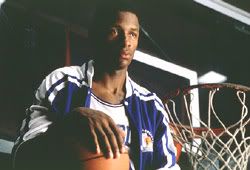 The good guy, Jesus Shuttlesworth, Ray Ray, yeah that guy, his name is Ray Allen and he is currently 14 points shy of his 20,000th career point. Tonight that milestone is well within reach as Ray and the Celtics go up against the Washington Wizards. Accomplishing this goal will be a well deserved honor for Ray. He would become only the 37th player that has stepped onto an NBA court to reach 20,000 points.
Gary Washburn, a staff writer for the Boston Globe, wrote a very interesting article today on Ray's worth ethic and off court dedication to the game he loves. You can view the full article here.
One thing that really amazes me, some of which I already knew, was the strict diet and workout routines that you don't necessarily get to see by simply watching games. From his alcohol-free life, to his strict diet, Ray Allen is very disciplined when he's not on the court. If he wasn't disciplined we may not be seeing the productive Ray Allen we are still seeing today. Rashard Lewis, a former teammate of Ray's in Seattle had the following to say about Ray, via the Boston Globe:
"I learned it's what you do off the court, take care of your body and getting the proper rest to perform well. Just watching him do the little things helped me come a long way.''
I can only hope that Ray's discipline is rubbing off on guy's like Rajon Rondo and Kendrick Perkins in the locker room. These guy's have to notice Ray Ray's strict off the court routine and see how successful he has been with it. Ray himself believes taking care of his body is a big reason why he has the chance to join the 20,000 point club.
"Twenty thousand to me is a wondrous accomplishment. I think for the most part it's about longevity and staying healthy, taking care of my body, being on some good teams."
Ray has always been the good guy, the guy that even Celtics haters would want on their team. I can only hope for the best for Ray and would like to see him finish his career in Boston. It will be a great moment in Ray's storied career tonight in the nations capital if he can get that 20,000th point.
Photos via Pictopia and Photobucket
Tags: Boston Celtics Ray Allen