Boston Celtics: Proposal swaps dead money for fourth-year 22-year-old big man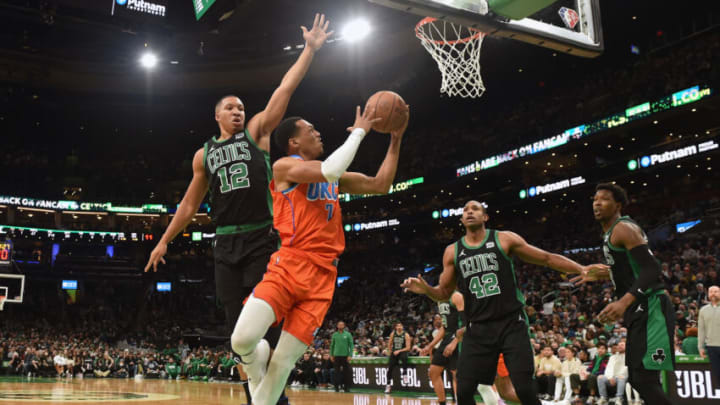 Heavy's Adam Taylor came up with a mock trade proposal involving the Boston Celtics sending dead money and a draft pick for a 22-year-old fourth-year big Mandatory Credit: Bob DeChiara-USA TODAY Sports /
It's not hard to see where the Boston Celtics could lack talent-wise during the opening stretch of the 2022-23 season — most notably, in the frontcourt where Robert Williams III and Luke Kornet will be injured for the first portion of the season.
We know it'll be a while before Williams will be healthy. According to HoopsHype's Michael Scotto, Williams has a single crutch on the side where the knee (surgery) is and is basically using it as a big cane essentially to support his walking. Given his injury history and this update, beating the proposed 8-12 week timetable doesn't seem all that likely. As for Kornet, his injury isn't supposed to keep him out for nearly as long, but the 7-foot-1 big man's frame makes an ankle sprain a trickier injury than for smaller players to deal with.
Perhaps the Boston Celtics can get by with the likes of Blake Griffin, Mfiondu Kabengele, Grant Williams, and a healthy dose of small-ball. At least until Kornet returns sometime in November or December.
If that doesn't work, Heavy's Adam Taylor came up with the following mock trade to draw a 22-year-old forward in Oklahoma City going into his fourth year for dead money and a future draft pick:
"Celtics Get: Darius BazleyThunder Get: Danilo Gallinari and a 2023 second-round draft pick via the Orlando Magic"
Why the Boston Celtics do it
As mentioned, this deal would make sense if by December 15 — when Danilo Gallinari's recently signed taxpayer's MLE deal can be traded for the first time — the Cs are still not happy with their frontcourt rotation.
Darius Bazley is far from a glove fit for a team who prefers shooting at the 4, but his athleticism would be welcomed for a defense that could use more length above the rim with Robert Williams III absent.
Why the OKC Thunder do it
With Chet Holmgren, Jaylin Williams, and Kenrich Williams all in need of minutes in the frontcourt, Darius Bazley could be the odd man out sooner than later in OKC. He's not the kind of trade chip capable of drawing more than a second-round pick, so Adam Taylor's proposal sets an appropriate price.
If the Thunder could pull off such a deal in December and find themselves competing for a playoff spot by February, they can even attempt to reroute Danilo Gallinari's dead money once again in a win-now move.