Clippers' failed 2019 trade a harrowing warning for Boston Celtics: Analyst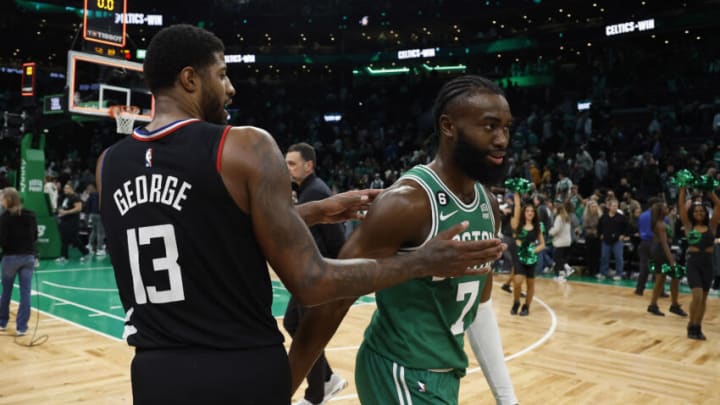 The Los Angeles Clippers' failed all-in trade gamble during the 2019 offseason could be a harrowing warning for the Boston Celtics (Photo by Winslow Townson/Getty Images) /
Clipperholics' Iliyan Lakhani linked the Boston Celtics trading for Jrue Holiday, focusing mainly on the Cs trading away Robert Williams III to weaken the rotation's frontcourt depth, to Los Angeles landing Paul George back in 2019 during their all-in championship push to team PG with Kawhi Leonard — later suggesting the weakened center spot could cost the team a championship given the injury concerns Kristaps Porzingis brings with him.
"Sure, Boston received Holiday, who is a stud on both ends of the court, but their front office is far too reliant on their veterans to carry them to a championship," Lakhani prefaced before saying, "This ties into the LA Clippers as they traded away a plethora of first-round picks and Shai Gilgeous-Alexander for a 29-year-old Paul George. Granted, George was coming off the best season of his career, but the principle remains the same.
"Each year since the NBA Bubble, injuries have held the LA Clippers back from their goal of winning a championship. This could pan out similarly for the Celtics if they do not add depth to the center position. As of right now, Boston is hoping that Kristaps Porzingus remains healthy throughout the year. This is not the smartest move, as he has a prominent injury history, especially within the last couple of seasons."
Clippers led to Boston Celtics trading for Jrue Holiday
The Clippers have an understated role in how this offseason played out for the Boston Celtics by nullifying the originally accepted Porzingis proposal due to Malcolm Brogdon's injury concerns. Had they not, the Cs likely would've never landed Holiday since they would've still had Marcus Smart at the 1.
For a long time, it seemed as though the point guard spot was one the front office was relying on Derrick White and even Jayson Tatum to fill. Once the Brogdon uncertainty kicked up and Holiday became available though, Brad Stevens and Co. acted quickly to get a player used to the position for an all-in push for Banner 18 in 2023-24.
Let's just hope the Clippers' bad luck doesn't rub off on the Holiday deal since they are intrinsically linked to it.