Analyst prefers trade block floor general to Jrue Holiday for Boston Celtics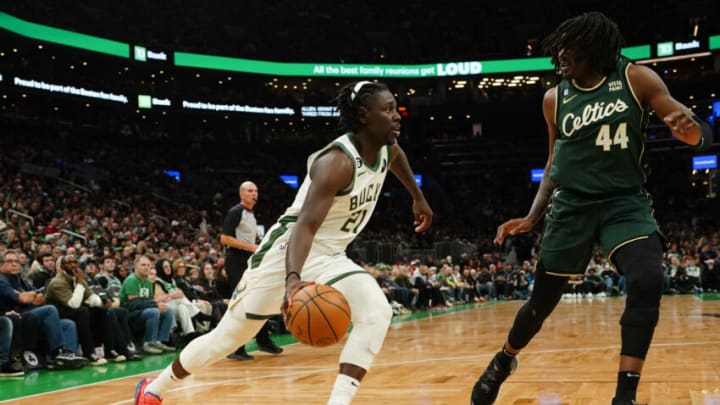 Dan Greenberg of BSS would rather see the Boston Celtics hold onto their disgruntled sixth man than trade for Jrue Holiday Mandatory Credit: Gregory Fisher-USA TODAY Sports /
Dan Greenberg of BSS prefers trade-block floor general and reigning Sixth Man of the Year Malcolm Brogdon to the recently-traded and similarly on-the-trade-block ex-championship point guard Jrue Holiday for the Boston Celtics.
"I'm at the point where I would rather this current Celts roster have a healthy Malcolm Brogdon (plus whatever else makes the money work) than a 34 year old Jrue Holiday who has a $37M player option for next season and wants a new extension," Greenberg wrote.
Holiday was sent to the Portland Trail Blazers as part of the three-team blockbuster that landed Damian Lillard with the Milwaukee Bucks, and the Blazers are looking to re-route him in a deal before the 2023-24 season. Portland also received Deandre Ayton, Toumani Camara, Milwaukee's 2029 unprotected first-round draft pick, and unprotected Milwaukee swap rights in 2028 and 2030, per ESPN's Adrian Wojnarowski, while the Phoenix Suns got a major influx of solid depth with the additions of Ayton-replacement Jusuf Nurkic, Grayson Allen, Nassir Little and Keon Johnson.
Boston Celtics must decide if trade is necessary to contend with the Bucks
Landing Lillard vaults Milwaukee to the top of the Eastern Conference, and depending on where Holiday ends up — the Miami Heat, Lillard's long-time preferred destination until the days leading up to September 27's big deal, could make themselves relevant again if they brought on the 33-year-old — the Boston Celtics could be falling behind.
Even though the Cs had a massive offseason in their own right, they have major question marks at point guard; the position that one of their main competitors just went all-in on. Derrick White and Jayson Tatum can answer those questions, but moving on from the oft-injured Brogdon feels like the best way to address the 1-spot.
Maybe, though, that's not the move. The Bucks famously claimed the 2021 NBA Finals by investing in its core and securing them on long-term deals — and Boston just did that with two of their biggest stars, Jaylen Brown and Kristaps Porzingis. After coming a game away from making a second-straight Finals in 2023, maybe it's time to let the current core work and stop dreaming big on the trade market.
It's just hard to when a deal like the Lillard trade goes down; not to mention whatever subsequent Holiday swap that follows.