Proposed trade sends back former trade deadline splash to Boston Celtics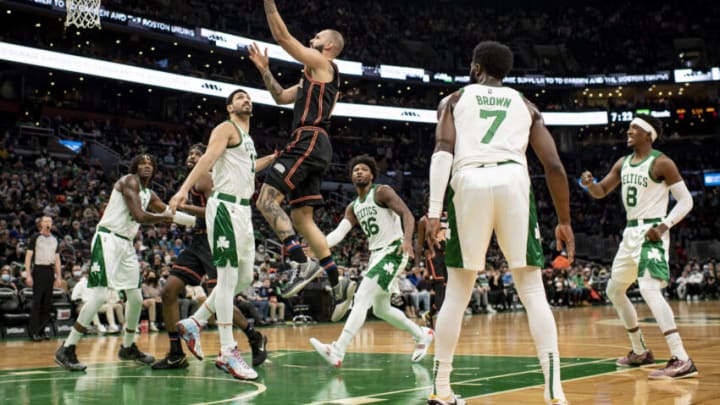 A proposed trade from NBA Analysis Network would send a former trade deadline splash back to the Boston Celtics in his contract year (Photo by Maddie Malhotra/Getty Images) /
A proposed trade from NBA Analysis Network would send a former trade deadline splash from Danny Ainge's final season running the Boston Celtics, Evan Fournier, and German big man Isaiah Hartenstein to the Cs for reigning Sixth Man of the Year Malcolm Brogdon.
NBA Analysis Network's James Piercey believes Boston could use the cap relief such a deal brings, while also recognizing that Fournier could provide the offense a varied look from what Brogdon and Derrick White bring to the floor.
"This deal affords (Boston) some short-term cap relief," Piercey prefaced before saying, "Fournier's deal expires after this season, whereas Brogdon has two years left on his deal. Boston should be happy to take back an expiring contract. Meanwhile, Fournier is an offensively talented player – while Derrick White is similar to Brogdon, Fournier could offer a different dynamic to this team's attack."
Isaiah Hartenstein would be an intriguing addition for the Boston Celtics — with the right follow-up move
Owed under $9 million during the 2023-24 season, Hartenstein may be the real headliner of this deal for the Boston Celtics side of it. The German center could serve in a similar role to Al Horford, keeping the ball moving while also getting the occasional iso bucket and even stepping out beyond the arc.
In the current loaded frontcourt Boston sports, Hartenstein makes very little sense to pursue. But with a follow-up trade of, say, Robert Williams III? That could make a lot of sense.
The Celtics have a relationship in need of repair with Brogdon, so the idea of trading him isn't a far-out one. Bringing depth to Boston should definitely be a goal of the front office considering the depth it lost with Grant Williams signing with the Dallas Mavericks as a restricted free agent whose deal wasn't matched.
There's a lot right with this proposal from Piercey, but there'd need to be corresponding moves for it to be anything worth considering.