Re-upped Boston Celtics bench player will 'continue getting opportunities'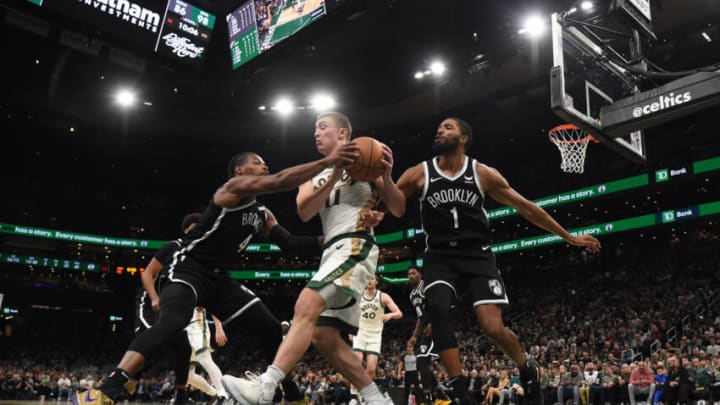 A re-upped Boston Celtics bench player will "continue getting opportunities" from Joe Mazzulla despite his early-season struggles Mandatory Credit: Bob DeChiara-USA TODAY Sports /
Re-signed Boston Celtics guard Payton Pritchard, who is now under contract for the next five years after a four-year extension was given to him by Brad Stevens on October 8, will "continue getting opportunities" from head coach Joe Mazzulla despite his early-season shooting woes; which included a 3/20 start from beyond the arc.
"The C's haven't had many games where they're shorthanded, but those are bound to come over the course of an 82-game regular season," MassLive's Brian Robb prefaced before saying, "That's when they'll need to rely on Pritchard coming off the bench — it's also why they rewarded him with the extension.
"Mazzulla has stuck with Pritchard through the misses as he looks to empower his guard to continue playing his game. Pritchard said that was communicated to him that he'll continue getting opportunities, so he didn't have to worry about making mistakes while on the court."
For Payton Pritchard and the Boston Celtics, it's all about getting hot at the right time
Pritchard's November struggles will be a footnote in Boston Celtics history should the team end up hoisting the Larry O'Brien trophy next June and finally raising Banner 18 to the TD Garden rafters next fall. Sure, it stings that one of the few holdovers from the Danny Ainge era is not making good on his extension yet, but there is nearly half a year until the games start really mattering to Celtics fans anyway.
Pritchard has long been one of the team's only play-makers in the second unit, so giving up on him when things are tough — particularly after signing him to a bargain-bin deal — is probably not in the cards for Stevens and Co.
It's all about getting hot at the right time. Pritchard does that in the playoffs, and his extension won't come close to compensating him enough for his value.