Boston Celtics' difficult offseason decision already paying dividends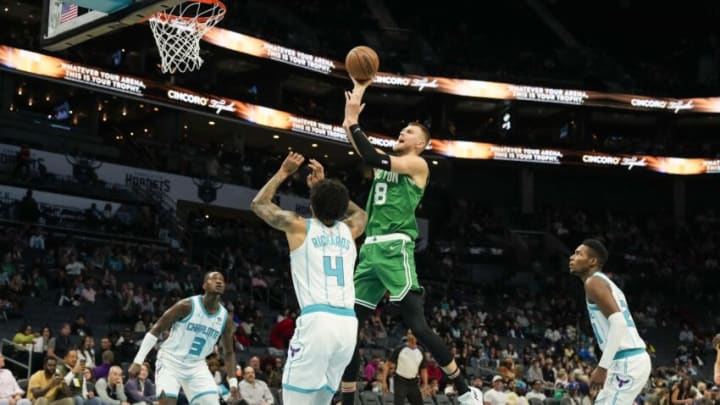 The most difficult decision of the offseason could prove to be one of the best moves in the history of the Boston Celtics franchise Mandatory Credit: Jim Dedmon-USA TODAY Sports /
When the Boston Celtics traded Marcus Smart for Kristaps Porzingis, it led to mixed reactions among Celtics fans. A week into the season, with the Celtics at 3-0 and Marcus Smart and the Memphis Grizzlies at 0-4 as of this writing, the Porzingis acquisition appears to already be a slam dunk.
In fact, the difficult decision to swap Smart out for Porzingis could end up becoming a top-five move in franchise history.
Just three games into his Celtics career, Porzingis has already made a great first impression. The Cs big man is averaging 20 points, 7 rebounds, and one assist per game, and his shooting has been tremendous. Porzingis is shooting 58% from the field and 47% from three, with his biggest three coming in the opener against the Knicks.
It's crazy to think that Porzingis himself has said that he is still not even in his top playing shape.
One aspect that Porzingis has brought that makes the signing look great is his ability on the offensive end of the floor. Porzingis makes life easier for Jayson Tatum and Jaylen Brown by being a force in the paint and by sucking in the defense, which creates driving lanes. The big man is also a willing passer, and he makes great reads. In the game against the Wizards, Porzingis made excellent passes that highlight his potential in the Celtics offense.
Kristaps Porzingis not rocking the boat with the Boston Celtics
Another aspect of Porzingis that looks great early is how humble he is and his overall willingness to be great. I think this is an important attribute because his defense has been overrated to start this season.
Porzingis was exposed by Bam Adebayo in the Celtics home opener, which is a small concern moving forward. However, I like how Porzingis is willing to be pushed by Joe Mazzulla because it shows he is committed to winning.
With a brilliant start already behind him, it will be interesting to see how Porzingis finishes this season.