Analyst not sold on ex-Boston Celtics role player's new team despite win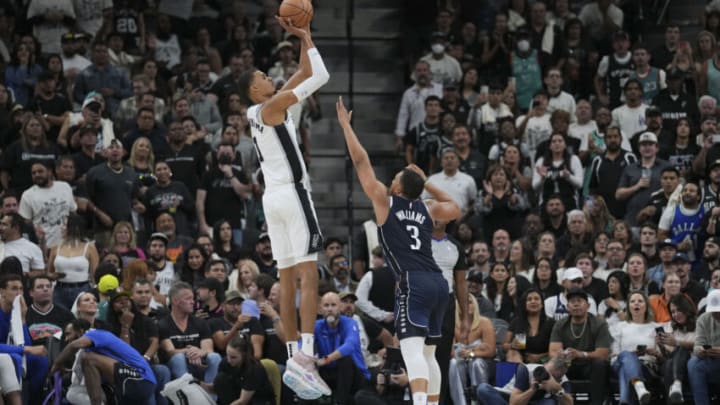 MassLive's Brian Robb wasn't sold a certain ex-Boston Celtics role player whose name team won on opening night on October 25 Mandatory Credit: Daniel Dunn-USA TODAY Sports /
MassLive's Brian Robb was not sold on former Boston Celtics role player Grant Williams' new team, the Dallas Mavericks, despite them dispatching of No. 1 overall draft pick Victor Wembanyama and the San Antonio Spurs on October 25.
"Williams wanted a big payday and more minutes, which is exactly what he got from the Mavericks," Robb prefaced before saying, "He showed off his solid 3-point shooting in the victory as Williams also got the start. It'll remain to be seen how the Mavericks look like this season with Kyrie Irving and Luka Doncic leading the way, but they at least came away with the season-opening win."
Williams was an essential element for the Mavericks, logging 35 minutes and sinking 6/11 shots overall and 4/8 from beyond the arc against the Spurs; proving to be the perfect kick-out option along the perimeter for Kyrie Irving and Luka Doncic.
Analyst bearish on former Boston Celtics fan favorite's new team — and his role on it in the future
Robb had doubts about not only Marcus Smart's new team, the Memphis Grizzlies — but also No. 36's role on the Grit and Grind once Ja Morant returns to the lineup following his 25-game suspension.
"Smart will continue to see a larger role with Ja Morant serving his 25-game suspension to start the year," Robb wrote. "The Grizzlies should be fighting for a West playoff spot, though they have yet to advance to the second round with their current core despite regular-season success. It was a solid debut for Smart as he impacted the game. It'll be interesting to see how the Grizzlies utilize Smart when Morant returns, though."
Smart suggested he wasn't valued by the Boston Celtics front office; perhaps specifically by President of Basketball Operations Brad Stevens himself.
"I'm glad to be in an organization that wants me and sees me (have) great value," Smart said to The Athletic's Jared Weiss (h/t Boston.com). "So I'm ecstatic and I'm ready to get going."
Evidently, Robb doesn't believe the going will be very good for Smart and the Grizzlies during the 2023-24 season.