Boston Celtics have the perfect trade package for Joel Embiid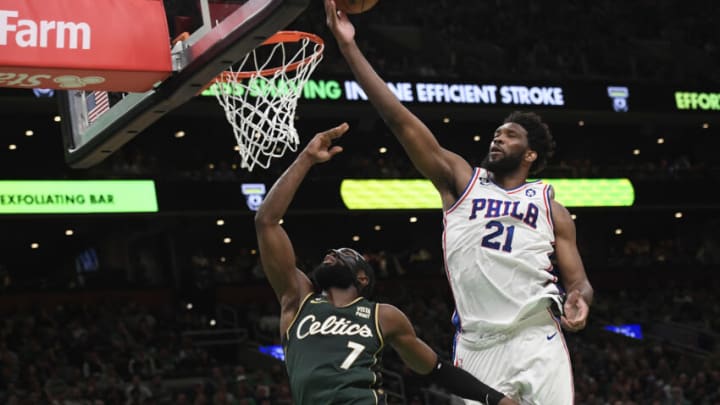 The Boston Celtics have the perfect trade package for Joel Embiid if he waits to be moved from the Sixers until after the 2023-24 season Mandatory Credit: Bob DeChiara-USA TODAY Sports /
With the current situation involving the 76ers, many teams are in the hunt for the reigning MVP Joel Embiid. It was reported by The Philadelphia Inquirer's Keith Pompey that the Boston Celtics rival, the New York Knicks, would be willing to trade Julius Randle, RJ Barret, Mitchell Robinson, Evan Fournier, and two to three first-round draft picks to land Embiid.
While this is a very impressive package, loaded to the gills with assets, this will assuredly not be the only deal on the table.
With Embiid potentially putting himself on the trade block, almost every team in the NBA will try to be in the running for his services. He is a former MVP and one of the top players in the game today. While the Knicks and others may have intriguing offers, the Boston Celtics will have the best one possible if the Sixers are willing to wait one more season.
If the Sixers can wait one more season before moving the dominant big man, the Celtics can put together a package of Jaylen Brown and Kristaps Porzinigs; with a few draft picks potentially thrown in that deal.
The Sixers would have a tough time turning that down.
Sixers get two franchise cornerstones while the Boston Celtics would form Kobe and Shaq 2.0
Philadelphia would be getting two All-Star players who can contribute at a very high level. What the Boston Celtics would get in return is a dynamic duo of Tatum and Embid that'd resemble the next Kobe Bryant/Shaquille O'Neal championship pair.
It's hard not to see such a one-two-punch bringing multiple championships to Boston and giving them a new dynastic reign over the league. This trade package from the Boston Celtics would give the Sixers a team with two potential No. 1 options and would put the Celtics in a position to win every year for many years.