Ex-lottery pick newcomer can become heart and soul of the Boston Celtics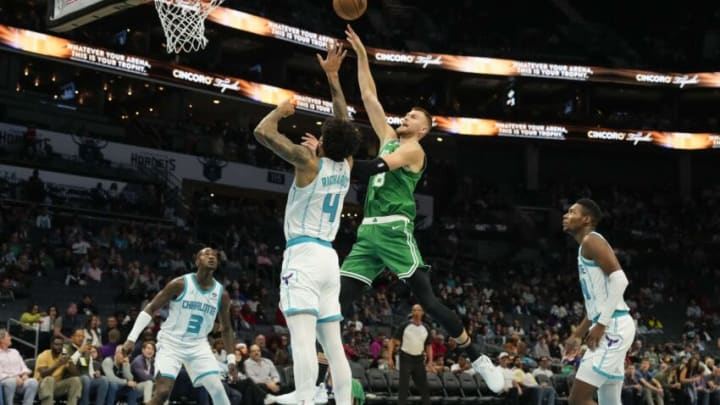 A former lottery pick landed by the front office in the offseason could become the heart and soul of the Boston Celtics this season Mandatory Credit: Jim Dedmon-USA TODAY Sports /
Many believe that trading away Marcus Smart cost the Boston Celtics the heart and soul of their team. What people are forgetting is that the Celtics got in return a seven-foot-three unicorn who can take up that mantle.
Kristaps Porzingis's defensive abilities will bring life to a frontcourt that was aging and oft-injured before he got there and is more than likely going to come in with so much passion and energy to prove himself to the Boston faithful.
After being in a few situations that did not put him in a position to get noticed, Porzingis will be able to shine night in and night out for a star-studded roster that, thus far, looks like it's meshing well.
If the expected spectacular plays Porzingis has always provided his employers are present during the 2023-24 season, and the wins subsequently follow, the front office won't regret the massive cost it took to bring him on. One has to think Porzingis will make sure he does whatever it takes to not only win the NBA Championship this year but start another Boston Celtics dynasty so he can be remembered as one of the all-time greats.
Kristaps Porzingis could be a Boston Celtics fixture just as Marcus Smart was
While the loss of Smart did hurt Celtics fans, they still have someone that can love and appreciate for many years to come considering the multi-year extension he signed in the offseason. Porzingis will show everyone his true potential on this team and he will be a key part of the C's chase for Banner 18.
If, and perhaps when, that happens, Porzingis could go down as the most consequential move in Brad Stevens' President of Basketball Operations tenure with the Boston Celtics. And perhaps the No. 8 will one day hang from the rafters along with another few championship banners.