Former Boston Celtics sixth man takes shot at 2021-22 team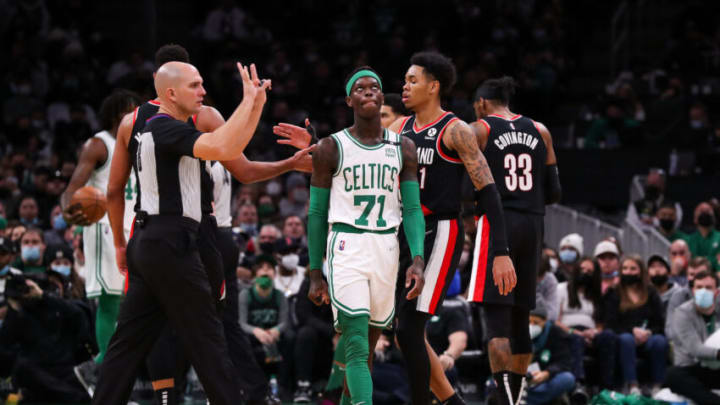 A former Boston Celtics sixth man took a shot at the 2021-22 Cs as well as every other NBA team he has ever been a part of Mandatory Credit: Paul Rutherford-USA TODAY Sports /
Former Boston Celtics sixth man Dennis Schroder took a shot at the 2021-22 Celtics — of which he was a part of for 45 games before being traded and missing the team's run to the 2022 Finals — following Germany's win over the eliminated Team USA.
"My team is extremely awesome," Schröder said following Germany's 113-111 victory over Team USA (h/t BasketNews.com). "I think this is the best team I've ever been on, whether it's the NBA or the national team." Schroder made sure not to get anymore ahead of himself in discussing Germany's championship game against Serbia.
"When we do our things and execute, we can beat any team," Schröder prefaced before saying, "Of course, winning against the USA is very, very cool, but we still have one game, and we still have to stay focused and play against a strong Serbia team on Sunday."
Boston Celtics analyst believes Dennis Schroder took liberties with wild comment
NESN's Gio Rivera believes Schroder took liberties with his wild postgame comments after the former Boston Celtics point guard's 38-point, 11-assist explosion against Team USA on September 8.
"Sure, Germany's win was entertaining, shocking, thrilling a lived up to the hype that it's garnered ever since the final buzzer sounded," Rivera wrote. "However, that's a fringe USA squad that featured not a single multi-time All-Star in the starting lineup. It wasn't a star-studded team, albeit disappointing in terms of the end result, but still not good enough to be deemed a sure-thing roster."
Team USA was admittedly disappointing and featured no Celtics. Still, Schroder's achievement of leading an unsung German squad over the United States is nothing to snub one's nose at.
It's just also not something that should lead one to claim that Germany is the best team Schroder ever played for given his decade-long career thus far in the Association.