Proposed trade sends Boston Celtics future H.O.F. PG, draft capital for oft-injured role players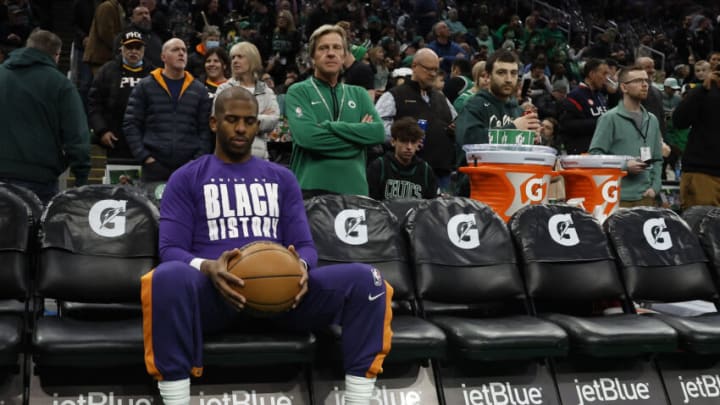 A proposed trade from NBA Analysis Network would send the Boston Celtics a Hall of Fame point guard and draft picks for two key oft-injured role players Mandatory Credit: Winslow Townson-USA TODAY Sports /
The Boston Celtics would have a future Hall-of-Fame point guard for the first time since Rajon Rondo — since recently traded Marcus Smart is a borderline case at this point with a lack of individual success in anything but defense — and a 2026 draft pick and 2027 pick-swap if a recent proposal from NBA Analysis Network went down. The point guard in question? Marquee Golden State Warriors offseason addition Chris Paul. The price? Two role players oft-injured role players: Robert Williams III and Malcolm Brogdon. NBA Analysis Network's James Piercey believes the Celtics must consider such a deal with their need for a pure point guard and the perpetual disappointment in the Time Lord's lack of availability.
"With the addition of Porzingis, they've got a less dire need for him," Piercey prefaced before saying, "No, he's not a perfect replica by any means. Porzingis is a better offensive player, whereas Williams III is much more versatile on defense. Still, in terms of their rotation, they've got a new combo big. On the other hand, they could use a point guard to orchestrate the offense.
"Paul can do that. Yes, he's aging. He's still capable of organizing an offense. Paul will make the right entry pass every time – that's all this stacked Celtics team needs. Still, the opportunity to collect some draft capital for two injury-prone players should be what appeals to them most here. Should the Warriors give them that opportunity?"
The Boston Celtics would be moving further from a championship in this deal
Strengthening the Western Conference franchise that kept the Boston Celtics from hanging an 18th banner in 2022 doesn't make sense for a Cs team trying to win it all right now. Paul also doesn't feel like a realistic addition for Boston, when a return to Los Angeles to either team up with Kawhi Leonard and Paul George back with the Clippers or with LeBron James and Anthony Davis on the Lakers looms for the NBPA's former president of eight years.
The only way this deal would be worth considering was if the Celtics front office had a deal lined up using those picks to bring in potential championship depth. Otherwise, the Houdini would say no if we were in control of Brad Stevens' neurological functions.