Less-than-obvious keys to the Boston Celtics-Atlanta Hawks series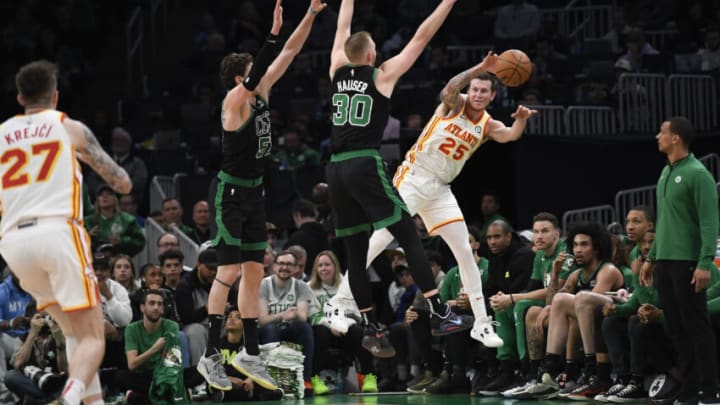 With the Hawks officially the first opponent for the Boston Celtics in the postseason, Hardwood Houdini examines some less-than-obvious keys to the series Mandatory Credit: Bob DeChiara-USA TODAY Sports /
With the first play in game wrapped up, the Boston Celtics now know their first-round opponent for the 2023 postseason.
The potential of playing the Miami Heat was a frightening idea for some and while Atlanta has been highly dysfunctional this year, they do have some threats that Boston should look out for.
So now is the time to sift through the film and advanced numbers, while there is a second to do so, and see what might be the hidden factors of the first round.
Here are some less-than-obvious keys to the Boston Celtics-Atlanta Hawks series
Boston Celtics Mandatory Credit: Bob DeChiara-USA TODAY Sports /
Offensive Rebounding
The Hawks won there play-in matchup in no small part thanks to their rebounding. They were +24 on the boards against Miami with 22 of those being offensive. Atlanta for the season is eighth in the league in putback points and plays generated per 100 missed field goals (per Cleaningtheglass.com), but they are only 15th in points off of putbacks plays in general. Hawks big Clint Capela is especially a rebound leader every year.
In a seven game series the Boston Celtics have the advantage but need to stay diligent. They rank first in defending both initial attempts and points off of misses, and third defensive points off putback plays. One would think that a lot of that has to do with Robert Williams III, and it does, all three stats improve greatly with Rob on the floor.
But, Williams has only played 35 games this year and fellow big Al Horford doesn't have near the numbers that Williams does. The Celtics as a team have great rebounding and will need to keep it up against Atlanta.
Boston Celtics Mandatory Credit: Brett Davis-USA TODAY Sports /
Battle of the Backcourts
The Hawks have a notoriously poor defender but highly efficient point guard in Trae Young, but they also have a tremendously good defender and playmaker next to him in former Spurs guard Dejounte Murray. Boston also has an efficient defender/playmaker that cut his teeth in San Antonio, Derrick White. Not to mention reigning Defensive Player of the Year Marcus Smart next to him.
Overall this makes for a rather interesting chessboard for both coaches to play with. The Celtics' guards both being strong defenders will make the point of attack matchups interesting to say the least, especially given the Hawks don't really have any weak defenders they can hunt elsewhere on the floor either.
The Hawks offense is more than decent because of its two guards but will have to find a spark and then some to create against the Boston Celtics defense.
Boston Celtics Mandatory Credit: Brett Davis-USA TODAY Sports /
Coaching
To highlight the coaching in a playoff series is rather obvious but this is a particularly interesting situation. Atlanta coach Quinn Snyder has only been with the team since the end of February, and while Celtics' Joe Mazzulla has been with the team for some years now it's still his rookie year leading the ship.
This could make for some less than predictable game theory on both ends. Both coaches are new in their respective way and neither knows the others tendencies in these situations because there is not historical data.
What each coach does and thinks the other will do will influence decisions in a less than obvious way. Coaching being a chess match is a given — but the lack of experience provides another layer to the fold. Hopefully it will give Mazzulla some experience and perspective he can refer to for this very playoff run.
The series as a whole might not be close but it will have its moments. Fans should keep an eye on the superstars, as everyone will, but there is always more going on that we can watch out for.