Analyst on Boston Celtics All-Star's fanbase critique: 'Comments like these will add to speculation about his future'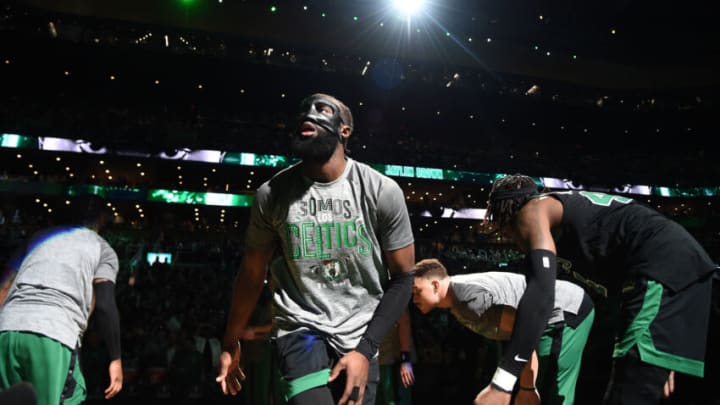 Jaylen Brown's recent critique of the Boston Celtics fanbase only 'add to speculation about his future' according to CBS Sports' Jack Maloney Mandatory Credit: Bob DeChiara-USA TODAY Sports /
Jaylen Brown's recent comments regarding the Boston Celtics fanbase will "add to speculation about his future" according to CBS Sports' Jack Maloney — though the writer did still maintain the position that Brown is still more likely to stick around than bolt in 2024 free agency.
"His next contract was always going to be fascinating due to the fact that he can make significantly more money by waiting until unrestricted free agency rather than signing an early extension," Maloney prefaced by saying, "At this point, there's no reason to expect that he'll leave Boston, but comments like these will add to speculation about his future."
Brown told the New York Times' Sopan Deb that a portion of the Celtics fanbase is toxic. He also called that a problem. "I definitely think there's a group or an amount within the Celtic nation that is extremely toxic and does not want to see athletes use their platform, or they just want you to play basketball and entertain and go home," Brown said. "And that's a problem to me."
Jaylen Brown turns up pressure for Boston Celtics to win title in 2023 or 2024
Brown openly criticizing an aspect of the city he represents on his jersey seemingly points in the direction of the 26-year-old at least considering the possibility of moving on from the franchise the first chance he gets.
This isn't his first notable complaint either. Throughout the summer of 2022, after being Boston's best player during the 2022 NBA Finals, Brown bashed the rumors he was being shopped for Kevin Durant in various trade scenarios.
With this criticism, it's clear Brown wants something different than what he's currently getting on the Boston Celtics. It continues to appear as though the only thing that will placate Brown is Banner 18.
The good news is that a ring and a massive payday tend to help keep the peace for NBA players. Luckily, the Celtics are in a good position to deliver on both the next two postseasons.