Boston Celtics: Why Jayson Tatum went for 50 points against Hornets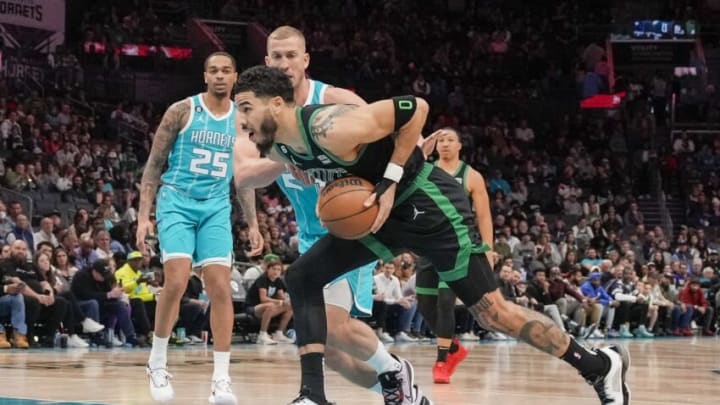 Jayson Tatum explained why he went for 50 points against the Charlotte Hornets during the Boston Celtics' January 16 victory Mandatory Credit: Jim Dedmon-USA TODAY Sports /
Boston Celtics star Jayson Tatum evoked the wisdom of a generational NBA isolation scorer who specifically specialized in 50-point games when he achieved the feat for the fourth time in his career on Monday, January 16 against the Charlotte Hornets.
Specifically, it was a text from Jamal Crawford — who also has four 50-point games in his career — that inspired Tatum to get the 23 shot attempts necessary to amass his first 50-piece of the season after going for 49 points earlier this year.
"Jamal texted me after the game and he's like, 'If you're ever that close to 50, nobody is going to remember the time and score, they're just going to report if you got 50 or not,'" Tatum said after the game (h/t New York Post). "That's what was going through my mind: Jamal telling me if you get that close to 50, go get it."
What other Boston Celtics players and Joe Mazzulla said about Jayson Tatum's 50-point game
"He makes me look like a better coach," Boston Celtics coach Joe Mazzulla said. "He didn't settle for shots — he got catch-and-shoots, he got off the dribbles, he got layups. The other piece of that is the humility of our team to really work with him to get those 51 points."
At this point in the season, Mazzulla looks like the league's best coach — having been thrust into the role unexpectedly a week before training camp opened due to the infamous in-house scandal involving Ime Udoka. Tatum's MVP efforts have been a major reason why.
Derrick White, who had the second-highest point total (19) on the night, lauded Tatum for having something of a 'mamba mentality' most nights. "He wants to be great and he takes that challenge each and every night," White said. "He's seen a lot of defense during his time in the league and he is making the right read off of that."
Tatum has been great in 2022-23, and his 84 points against the Hornets the past two games is about as stone cold of proof one would need to reach that conclusion.