Boston Celtics: Key Cs big suspended for October 28 Cavaliers matchup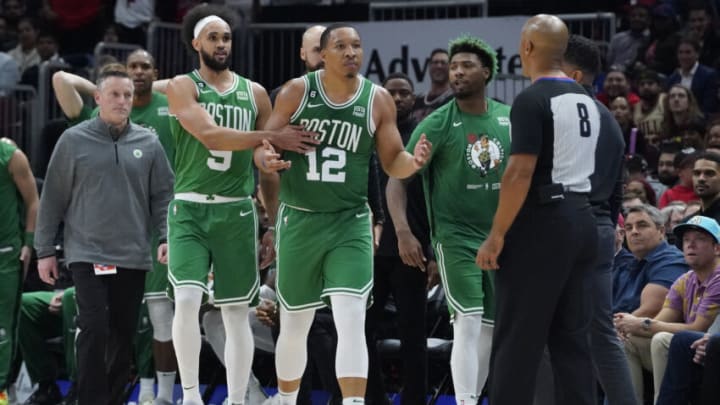 Following his actions during the Boston Celtics' October 24 loss to the Chicago Bulls, Grant Williams was suspended for Friday's Cavaliers matchup Mandatory Credit: David Banks-USA TODAY Sports /
The Boston Celtics lost big against the Chicago Bulls on October 24. So big, in fact, that the losses will be felt during the C's upcoming October 28 matchup with the Cleveland Cavaliers at the T.D. Garden.
Grant Williams, who made contact with an official in the fourth quarter of Monday's matchup in Chicago, will be suspended for 1 game for "recklessly making contact with and directing inappropriate language toward a game official," per Shams Charania.
In his absence, the Cs will likely deploy Noah Vonleh with greater frequency and could need Blake Griffin and Luke Kornet to play more minutes at the center spot to facilitate Al Horford playing more at the power forward position.
Sam Hauser also figures to be in line for more floor time to help replace Williams' scorching 67% conversion rate from beyond the arc. Hauser himself is shooting 54% from the 3-point line in the Boston Celtics' first 4 games.
Grant Williams is earning an extension with the Boston Celtics
Grant Williams is making it hard for the Boston Celtics to consider a future without him this season. While he was wildly ineffective against the Chicago Bulls, that was a team-wide problem this past Monday.
During the team's 3 wins, Williams was indispensable — averaging just under 13 points per game and just under 5 rebounds per game in near-starter minutes. Williams has been an invaluable defender, covering every position on switches and bodying up in the paint as quickly as he'll throw a double team on the perimeter.
The Cs and Williams couldn't come up with a suitable contract extension for both parties leading into the extension deadline right before the start of the regular season, but at this rate, a new deal should be expected unless the team wants to roll the dice in finding someone else who could capably start once Al Horford potentially retires (or signs elsewhere) before the next season or within the next several.