Former Boston Celtics first-round point guard a Lakers trade target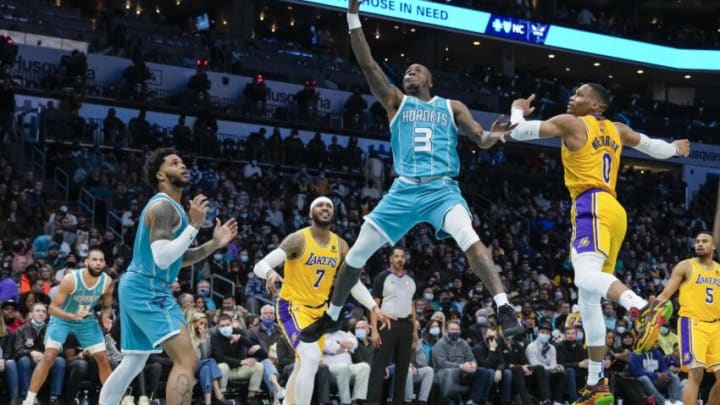 Former Boston Celtics point guard Terry Rozier is a target for the Los Angeles Lakers on the trade market as they look to dump Russell Westbrook Mandatory Credit: Jim Dedmon-USA TODAY Sports /
The Boston Celtics moved to 3-1 after a brutal loss to the Chicago Bulls on October 24 — one in which they were up 19 in the first quarter and ultimately lost by 18 — but everyone understands the Cs are still a contender. We think.
There's no doubt that the other NBA franchise with 17 banners hanging in their arena, the Los Angeles Lakers, are not in the title conversation. At this point, may not even be in the play-in conversation. L.A. is plagued by an insistence by head coach Darvin Ham to not only play $47 million former star Russell Westbrook, who is currently shooting a ghastly 28% overall from the field and a mind-boggling 8% from the 3-point line, but start him and include him in closing lineups as well.
If the Lakers don't correct that issue, they may be resigned to join the league's race to the bottom of the standings for Victor Wembanyama. The only problem? They owe their first-round pick in a swap if they have a less favorable selection than the New Orleans Pelicans due to the Anthony Davis trade. Even if they bottom out, they won't reap the corresponding reward.
Luckily for Laker fans, the team knows this and is trying to correct course. The team's front office reportedly has interest in trading for former Boston Celtics first-round pick and current Charlotte Hornets guard Terry Rozier using Westbrook's expiring contract according to The Athletic's Shams Charania.
Another former Boston Celtics starter could be included in said deal
Should the Charlotte Hornets start to lose after getting off to a surprising 2-1 record — surprising mostly because they beat projected east riser Atlanta — they'd likely look to dump unwanted veteran money. Terry Rozier isn't that, but Gordon Hayward certainly is. The former perennially injured Boston Celtics 2017 signee could be included in a Rozier-Russell Westbrook swap to make the money work.
A healthy Hayward sounds like an ideal fit next to LeBron James and Anthony Davis, but taking on his money for the next two seasons erases any cap space for L.A. this summer. Is that worth it to get rid of Westbrook right now and maximize one of the last remaining years of the 'king' in purple and gold?
Probably.