Boston Celtics: Training camp signee inks overseas deal, won't play in Maine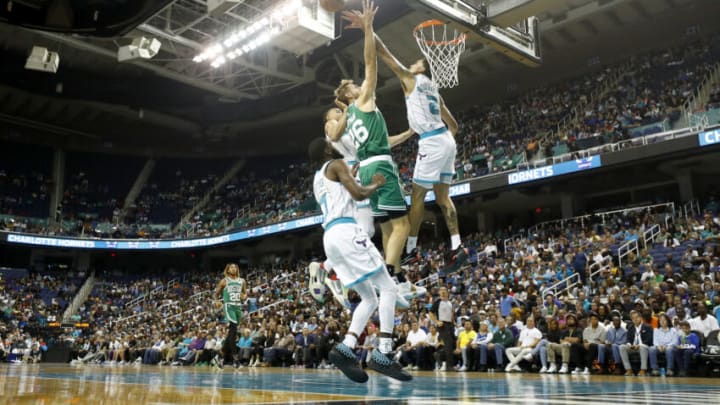 Boston Celtics training camp signee Jake Layman has inked a deal with Panathinaikos in Greece and won't be reporting to the Maine Celtics (Photo by Jared C. Tilton/Getty Images) /
The Boston Celtics won't be retaining the services of Norwood native Jake Layman, who will be headed overseas to play for Panathinaikos in Greece instead of reporting to the Maine Celtics, per Spotrac's Keith Smith.
According to Smith, Panathinaikos ponied up the cash in a way the Celtics organization was not willing to in order to land the former second-round pick. Layman has played on an NBA team for the past six seasons — the first three being with the Portland Trail Blazers and the latter three with the Minnesota Timberwolves — and opted for a bigger payday abroad as opposed to clawing his way back in the G-League.
Layman played in two of the C's preseason games, both against the Charlotte Hornets. He collected 8 points on 2/7 shooting and was one of the team's final cuts before the start of the 2022-23 season.
The last roster spot very likely came down to Layman and Justin Jackson, with the Cs opting for a player in Jackson that has experience playing in Boston last season during the NBA's bout with the Omicron variant of COVID-19.
The Boston Celtics played backup wings for 3 minutes in season opener
Jayson Tatum and Jaylen Brown both played 39 minutes during the Boston Celtics' opening night victory over the Philadelphia 76ers on October 18, combining for 70 points and becoming the third duo in history — and first since the 1970s — to do so.
Marcus Smart was on the floor for 36 minutes, while Malcolm Brogdon and Derrick White each played 24 minutes. As for backup wings? 3 minutes. Sam Hauser was the only reserve wing to find the floor, and it was such a short stint that he recorded a single stat: one personal foul.
Evidently, even if Jake Layman made the team, he wouldn't have played in the home opener. With that said, the C's backups will likely get their chance on Saturday, October 22 when they take on the Orlando Magic during the second night of a back-to-back. Before that on Friday night, Boston battles Miami on ESPN.