Boston Celtics: Grant Williams stating his case to play this preseason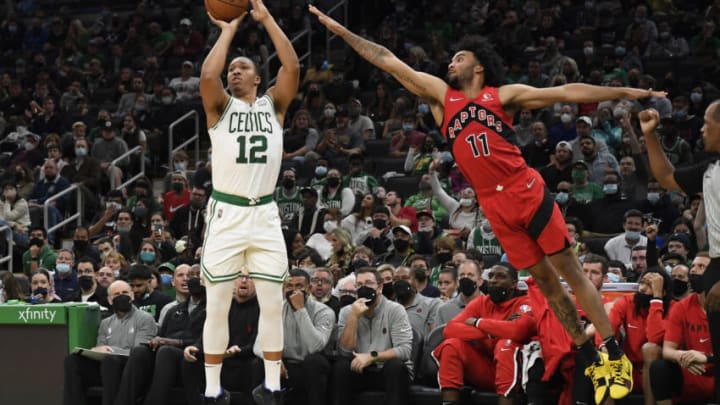 Boston Celtics Mandatory Credit: Bob DeChiara-USA TODAY Sports /
This past June saw the Boston Celtics hire new head coach Ime Udoka. As soon as the Shamrocks made their coaching decision, Grant Williams knew exactly what his next move needed to be.
The young Celtics forward immediately reached out to his new head coach. Coming into his third NBA season, Grant wanted to know what his coach wanted him to work on, in order for him to make an impact this season.
In a recent interview for Celtics.com, Udoka had this to say when asked about the exchange:
""Some of those things, were being in shape, being able to guard, and shooting the ball – improving his shot.""
So, Williams now had his list, and he immediately began to work on these objectives.
"Skinny Grant"–as many fans are calling him–showed up to training camp 15 pounds lighter in hopes of being a more versatile defender.
Early on, this preseason has seen Grant become exactly that. Through two games Williams has showed the ability to switch and stay in front of smaller guards.
This preseason, Udoka has the Cs switching on everything, which means if Williams is going to continue to make an impact, he will need to continue to show his versatility.
Coming into this season, the 22 year-old forward had shooting averages of 43% from the field, as well as 32% from the 3-point line. Even without that phone call to Udoka, this was clearly something Grant needed to work on.
The opportunity for Williams to make shots will be there. Teams will be focused on stopping the Jays, night in and night out the open looks will be there. So far, in 26 preseason minutes, Grant is shooting 5/10 from the field, 3/5 from 3-point range, while averaging 7.5 points per game. The points per game don't seem high, but it is almost four points higher than his career average.
All in all Williams is a player who most fans wanted to be traded or glued to the bench. Right now though, it looks like Grant took what his coach told him back in June to heart.
Even though it has been a short sample size, Grant Williams has impacted winning this preseason.
He keeps this up during the regular season, and this Boston Celtics team just added an unexpected in-house weapon to what is an already dangerous team.