Boston Celtics: 3 keys to victory in potential series-evening game 4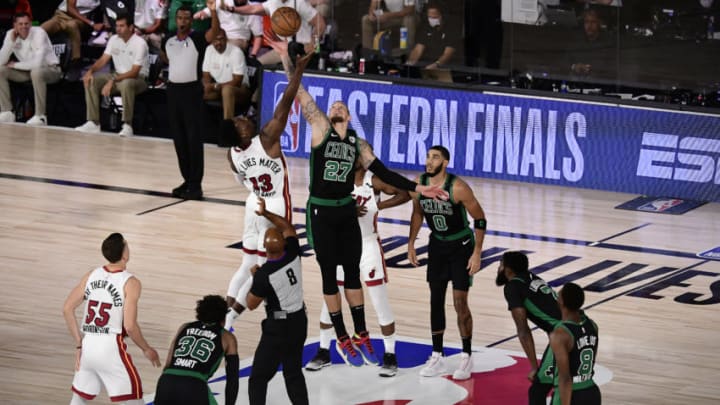 Boston Celtics (Photo by Douglas P. DeFelice/Getty Images) /
The Boston Celtics head into game four of this Eastern Conference Finals looking to even the series up at two games apiece.
Though things started off a bit bleak for the Boston Celtics, as they dropped the first two games in this best-of-seven Eastern Conference Finals, the team heads into tonight's game four with hope right back on their side.
Game three saw some of Boston's finest play all series, as it marked the first time since August 17th where they had an entirely healthy core rotation. Though the Miami Heat hung around till the final minute of regulation, the Cs wound up taking the 'W', with the final score ringing in at 117-106.
Heading into game four, momentum appears to be on Boston's side. That said, knowing how relentless this South Beach squad has been all postseason, the Cs cannot relent at any point if they wish to tie this series back up at two games apiece.
In order for them to attain their second win of these Conference Finals, however, the shamrocks will want to hone in on these three keys to victory:
Boston Celtics (Photo by Kevin C. Cox/Getty Images) /
Boston Celtics key to victory No. 1) Attain a lead, maintain a lead
This postseason, no other team has managed to squander leads quite like the Boston Celtics.
The firey bunch of ballers has managed to pack a substantial punch early on in games, especially against the Miami Heat in this year's Eastern Conference Finals.
In each of their first three outings, Boston has managed to find themselves up big on the scoreboard — we've seen them up by almost 20 on numerous occasions. Unfortunately, however, they have not done a good job at all in keeping said leads and, in turn, find themselves down 2-1 in this best-of-seven series.
Be it fatigue, a lack of effort, or simply bad omens in the third quarter — where they've been outscored by their opponent on eight of 14 attempts –, one this is for certain: they must do a better job of holding on to their leads.
Heck, even though they still managed to scrape out a "must win" victory in game three, with just over a minute left in regulation the Celtics allowed Miami to make a mini-run and saw a double-digit lead regress to just five. Fortunately, however, Beantown prevailed with executing on the offensive side of the ball in crunch time and wound up winning by 11.
As the Cs have shown us, going ahead of the Heat on the scoreboard is a tough feat to accomplish, but retaining the lead has proven to be even tougher.
In game four, should they find themselves up, they must do everything in their power to keep their foot on the gas.
Otherwise, unnecessary anxiety will begin to emerge, and the Houdini is sick of this emotional roller coaster ride of a Conference Finals.