Scouting Report for the Toronto Raptors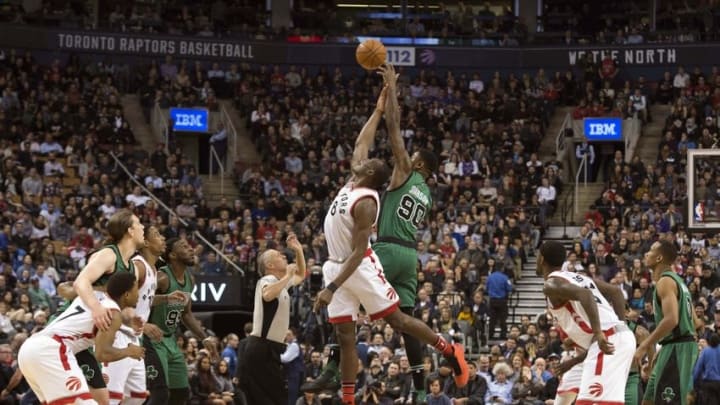 Jan 20, 2016; Toronto, Ontario, CAN; Toronto Raptors center Bismack Biyombo (8) and Boston Celtics forward Amir Johnson (90) jump for a ball during the fourth quarter in a game at Air Canada Centre. The Toronto Raptors won 115-109. Mandatory Credit: Nick Turchiaro-USA TODAY Sports /
Record: 45-21
Playoff status: 2nd in the Eastern Conference
Last 10 games: 7-3
Projected Starting lineup: Kyle Lowry, DeMar DeRozan, James Johnson, Luis Scola, Jonas Valanciunas
The Toronto Raptors have proven so far this season that they are a very good team and they sit comfortably as the number two seed in the Eastern Conference. They have been winning since the beginning of the season and maybe this year they seem more than ready to get over the hump in the playoffs. The Raptors have been very good offensively all year, in contrast to last season's performances after the all-star break (playoffs included) which was quite terrible. Toronto is also mostly a half-court team who likes to attack the rim.
The backcourt duo of Kyle Lowry and DeMar Derozan is one of the best in the NBA. They combine for 45.6 points, 10.4 assists and 9.3 rebounds. Both of them are having a career-high season in scoring and field goal percentage.
They try to play small a lot with either Patrick Patterson or DeMarre Carroll (before he was injured) at power forward in order to space the floor. Their defense is not elite, especially their starting lineup, but it improves a lot when guys like Cory Joseph and Bismack Biyombo come off the bench.
Here are some statistics that you need to know for the Toronto Raptors:
Basic Stats
Points per game: 103.0 (13th), Opp Ppg 98.4 (5th), Plus/minus: 4.6 (5th)
Rebounds per game: 43 (17th)
Assists per game: (29th)
Field Goal Percentage: 45.3% (13th)
3-point Percentage: 36.8% (3rd)
Advanced Stats
OffRtg 107.4 (5th), DefRtg 102.9 (13th), NetRtg 4.5 (6th),
TS% 55.5% (4th), eFG% 50.5(11th)
Pace 95.33 (28th)
Opponent stats
Opp FG% 44.7 (12th), Opp 3P% 37.3% (28th), Opp FGM 36.5 (4th), Opp FTA 22.2 (7th),
Tracking Raptors offense by shot type
Catch-and-shoot
28% of Toronto's total FGA's come out of catch-and-shoot situations (21.9% are 3pointers and 6.1% are 2pt shots)
Raptors shoot 39.3% overall from the field on catch-and-shoots (11th in the NBA)
Raptors score 24.5 points on catch-and-shoot shots (17th)
Pull-up
25% of Toronto's total FGA's come out of pull-ups (6.3% are three-pointers and 19.5% are 2pt shot(s)
Raptors shoot 37.5% overall from the field on pull-ups (8th in the NBA)
Raptors score 17.1 points on pull-up jumpers (16th)
Drives
36.5 drives per game (2nd in the NBA)
23.5 points on drives to the basket (1st in the NBA)
46.8% FG (11th)
Below we can see the plays the Raptors execute more frequently:
Pick n roll (ball handler): 20.5% of the time (4th), Off-screen: 7.1% of the time (4th), Isolation: 8.5% of the time (7th)
And some not that frequently:
Post-up: 6.7% of the time (19th), Transition: 11.7% of the time (24th), Cuts: 6.2% of the time (26th), Pick n roll (roll man): 5.2% of the time (27th), Hand-offs: 3.0% of the time (27th)
The Boston Celtics right now are in a funk because they are still trying to figure out their rotation after Jae Crowder's injury. They will have to contain Toronto's backcourt as much as possible. The most likely match-ups are Avery Bradley on Lowry and Marcus Smart on DeRozan.
Next: Boston Celtics Free Agent Target: Nicolas Batum
A strong start to the game is very important as Toronto has strong bench. Cory Joseph's presence has been very helpful, as he can run the pick-and-roll excellent and also hit some shots. He and Patrick Patterson are the players with the best net rating while on the court. After some mediocre performances lately, the Celtics have the chance to get back on track on their own home floor and take a much needed win in their effort to keep up the pace for the third seed in the Eastern Conference.