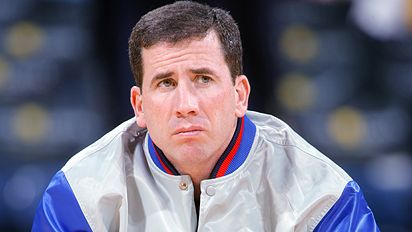 Last night, in an interview with 60 Minutes, Tim Donaghy came forward with his truths to his betting scandal in the NBA. Remember that this man went to prison for a year, and lost some integrity. Therefore, be careful yet think with an open mind as to what you believe he is saying to be true or false. Although in the interview he came off like he was an honest man, he was afterall the one who committed the crime. Take it for what it is, I am just going to go over some of the highlights of the interview.
When asked: Why do you think you did it?
Donaghy: Because I fell into an addiction of gambling.
How did it begin?
Donaghy: Playing golf at country clubs and card games in country clubs and peoples houses. It just evolved from those types of situations to betting on athletic contests.
As far as you know you were the only ref placing bets?
Donaghy: As far as I understand. Yes.
Your insisting that your betting did not influence the way you called a game? Why should we believe you?
Donaghy: Because the FBI did a thorough investigation and even the NBA concluded that I did not fix games in the NBA.
When you were reffing a game, didnt it come to your mind that you had bet on one team and not another?
Donaghy: I tried to put it out of my mind and I think I was able to do that.
Donaghy went on to say that he knew certain refs had different feelings about different players, coaches, and owners. His example through this was of Allen Iverson, and how some refs either liked or disliked him. After AI had "threatened" one of the officials, Donaghy said the refs were out to get him. In the next game Donaghy would bet against the team Iverson was on because he knew the refs would go out for justice against AI. He was a ref of this game, and in the interview said he was wrong with a call they showed on a television in the background. Donaghy would make certain bets based on the refs and their relationships to different players in the games they were officiating.
Then Donaghy went on to talk about how he got help from the league because the league sent out a notice for the refs to watch their calls on Kobe Bryant because:
Donaghy: The Lakers had sent in a CD of 25 plays that they felt calls were missed when Kobe Bryant went to the basket, and I understood from the NBA office that 22 of those plays were missed by the referees, and I knew that Kobe Bryant was basically gonna be given the opportunity to go to the foul line if someone so much as breathed on him.
As for what his big mistake was he confessed:
Donaghy: No, my big mistake was crossing that line where I bet in the first place.
Tim Donaghy also made the claim that in the playoffs the NBA does all it can to stretch out series and extend big market teams further into the playoffs.
The basic idea behind the whole interview was that Donaghy claimed that his bets did not change any outcome to games, but instead that he had insider information to betting on games due to the relationships of the refs, and how he knew certain refs would call certain games. Formulate your own opinion and I would suggest viewing the interview as it is very interesting.
To view the complete interview with 60 minutes click here.
Tags: L.A Lakers NBA Tim Donaghy